John Waters once wisely said, "If you go home with somebody and they don't have books, don't fuck 'em." Well, if the current state of fashion's anything to go by, he was damn well right. Reading is hot, now more than ever. While fashion often looks to wider culture for inspiration, books have become status symbols in their own right. On sunny days, parks are filled with people taking their hot-girl books out from their hot-girl tote bags – most often Ottessa Moshfegh's My Year of Rest and Relaxation or something by Sally Rooney.
Indeed, books are markers of taste and self-expression. Picking which books to go on your shelf – or Insta story – is akin to picking out what to wear. TikTok, Instagram and Goodreads are full of 'hot-girl book' lists, but when exactly did reading become such a hot pastime? Noughties romcoms would have you believe that being cool and reading books are mutually exclusive, with the hot popular kids teasing the ones who spent lunch breaks with their noses between pages. The tables have since turned, however, with books becoming yet another means to present our most curated selves online through the culture we consume. Ergo, if you read 'hot-girl books' then you must be hot.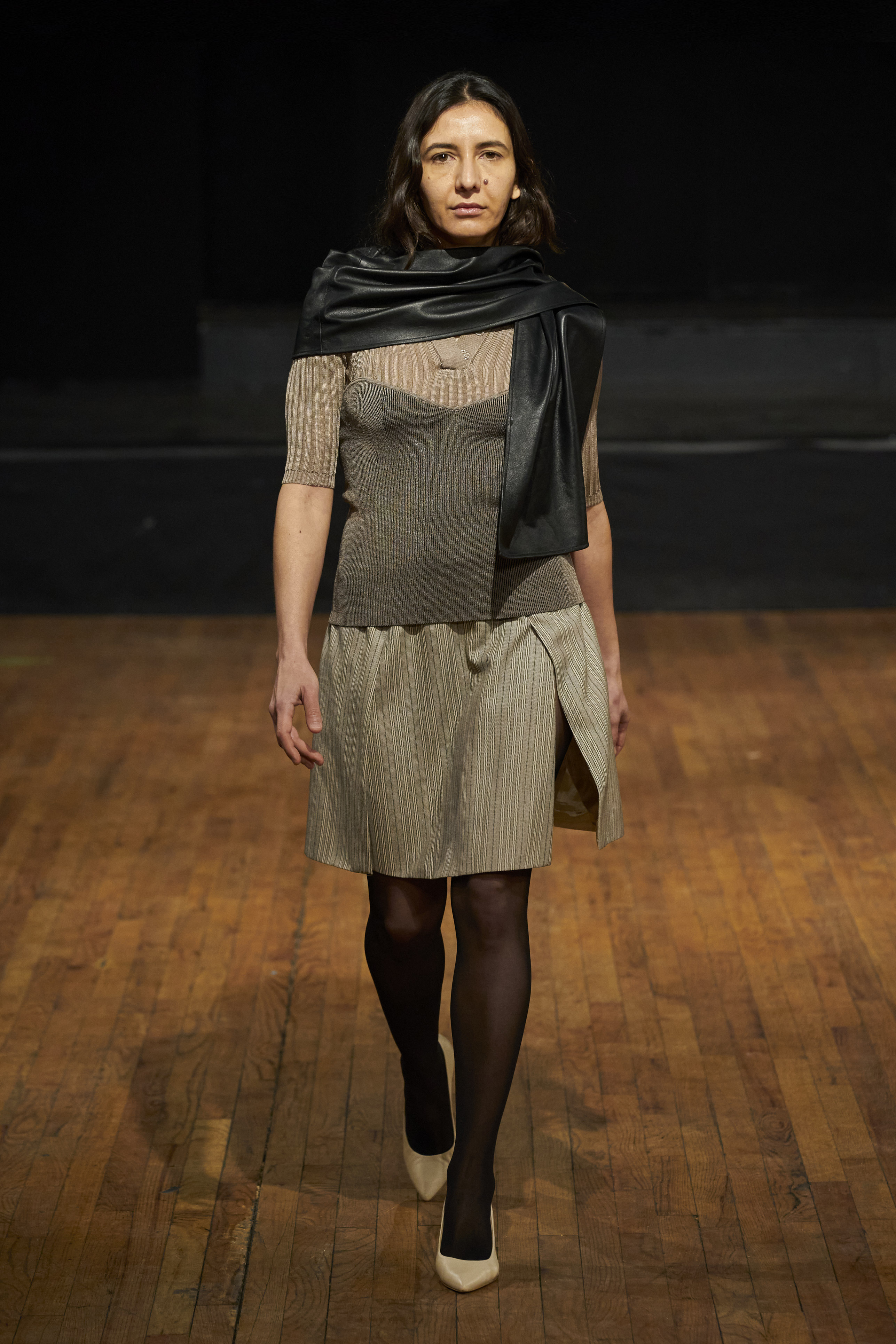 Image via gorunway.com
On the runway, designers are interpreting this trend through a sartorial lens. In recent seasons, we've seen fashion's bibliophiles turn to both classic and contemporary literature for inspiration. Ottessa Moshfegh took up the mantle of fashion's favourite novelist for AW22, making her runway debut at Maryam Nassir Zadeh's NYFW show as well as writing a short story to accompany the show notes at Proenza Schouler. Meanwhile, Jonathan Anderson's AW22 Loewe show featured a voiceover reciting Sylvia Plath's poem Fever 103°. For SS22, the designer released three JW Anderson capsules inspired by the quote, "the secret of life is in art," from one of literature's fashion luminaries, Oscar Wilde.
Bookworm Kim Jones is no stranger to introducing literary codes to collections at both Fendi and Dior. For Dior Men AW22, he looked to Jack Kerouac's beat classic On The Road, unfurling the original transcript along the runway with the stamp of approval from Kerouac's estate. Previously, the creative director drew from Virginia Woolf for Fendi Couture SS21 in a collection inspired by school trips to Charleston Farmhouse, a beloved retreat of the Bloomsbury Set of which Woolf was a part. Elsewhere, Valentino's Pierpaolo Piccioli enlisted 17 renowned authors — including André Aciman, Leïla Slimani and Emily Ratajkowski — to create campaign layouts featuring their writing; and thirsty Parisian menswear label Louis Gabriel Nouchi has named each of his collections after a seminal French novel. To put it simply, literary interests have never been so in. Books tell us where we are, where we were and where we'll be, so it's no surprise they serve as an endless pool of inspiration for the fashion world.  
Granted, the trend has been gaining traction for some time. When the Hadid sisters were papped holding paperbacks while off-duty at fashion week, the New York Post called their books the "hot new accessory of 2019", but the tabloid article received backlash as some suggested it was sexist to imply that women only carry books for ornamental purposes. Later that same year, Kendall Jenner was captured reclining in the sun reading cult contemporary classics like Darcie Wilder's literally show me a healthy person and Chelsea Hanson's Tonight I'm With Someone Else. In an article titled, 'How did Kendall Jenner get a copy of my book?' Wilder surmises that it was probably Jenner's modelling agent Ashleah Gonzales who compiled the supermodel's curated reading list. Thus, the concept of the elusive celebrity book stylist was born. It was revealed that some high-profile figures hire someone to choose what books they read or carry with them in public. It makes sense – after all, there's no shame greater than being seen reading something embarrassing on the tube. 
Photo by Arnold Jerocki/Getty Images
In 2020, Kaia Gerber launched her own book club, while newsletters from Dua Lipa and Lorde often contain literary recommendations keeping the art of reading cool and alive. When Architectural Digest filmed a tour of Ashley Tisdale's home, the actress admitted she'd sent her husband out to buy 400 books just to fill up the shelves before the interview. She was criticised for using books just for decorative purposes, but while the idea of books as accessories might be offensive to some, to others it can make reading more glamorous and exciting. 
When Berlin-based artist Calla Henkel released her debut novel, Other People's Clothes, earlier this year, it was immediately categorised as a hot-girl book by content creators on BookTok, TikTok's literature community focused on categorising, discussing, reviewing and joking about books. Calla's novel follows the story of two art students living in Berlin in 2009 and throwing extravagant parties every weekend. The Guardian described it as, "a very good plot-driven thriller dressed in a glittery jumpsuit". It's easy to see where its glamorous credentials come from and Calla isn't displeased with this perception. "I think there is a cultural knee-jerk thing to piss on things that young women like," she says. "I am weirdly turned on by the cringe of colour-coordinated books on a bed with twinkle lights and I don't think it flattens what's inside the books. If anything it releases it from the slumber of academia."
Calla is interested in "the camp of being a writer," she says. "I mean, my author photo is me looking serious in my bra at a lake in Switzerland." Being an author often means taking on a persona, whether willingly or unwillingly. The sad reclusive writer is a cliche so serious that it becomes camp. Many contemporary writers fit into the literary sad girl trope, writing sad waifish characters and avoiding the public eye. While many books in this genre still feature in 'hot-girl' reading lists, there's a desire for more glamour in literature, even if it just comes down to the cover art. 
Lauren Hower, who makes content on BookTok, freely admits that a book's appearance plays a part in her decision to read it. "I was reading a Rachel Cusk book on the subway and I was like, this book looks so good with my outfit!" she says. "I hoped some New York street photographer would take a photo of me and my hot book." Speaking on the phone as she walks around the city, Lauren says, "I'm seeing the Ottessa Moshfegh girlies everywhere. She has become so synonymous with being an alt sad girl. It's truly like another accessory. Your platform Doc Martens and your Ottessa Moshfegh book are your whole look."
This wave of literary fashion could simply be the latest trend in our endless pursuit of a curated online persona or it could signal that being intelligent and informed is more important than ever. With all the conflicting information online, turning to books can provide a sense of stability. If a book matches your aesthetic, there's a higher chance that you might be able to relate to it. Even snobbish academics who might be offended by the idea of books as fashion accessories have certainly read books for clout and validation. Just because what you're reading looks good with your oat latte doesn't mean you're being too shallow to appreciate its contents.